5-7 December 2018 – Ghent (Belgium)
2018 Theme « Smart Use of the Extant Literature" 
We are delighted to announce that the 7th Let's Talk About Service Workshop will be held from December 5 to 7, 2018 in Ghent, hosted by the Center for Service Intelligence (Ghent University, Belgium). LTAS is empowered by the Service Special Interest Groups (SERVSIG) of AMA.
Founded in 2012, the ambition of LTAS was and still is to guide young scholars through their academic journey, from fresh PhD Students to early career starters, by offering them tailor-made workshops that are relevant for their careers.
Each year is organised around a specific theme. This year's theme is: « Smart Use of the Extant Literature"
 Format
Meta-Analysis (Quantitative) Workshop & Content Analysis (Qualitative) Workshop
Advice from keynote speakers and Journal Editors
Coached literature review projects: Participants will be coached by senior scholars and academic mentors, and will start working on a topic of mutual interest from the service management literature that will be assigned prior to the meeting.
Benefits
Participants will not only learn how to deal with their literature wealth in a more efficient way, they will learn methodologies to write papers based on both quantitative and qualitative literature reviews
Participants will also be given the opportunity to continue collaborating afterwards and writing papers together based on the methodological skills they will acquire during the workshop
We are delighted to announce that papers emerging from the workshop will be considered for publication in the Journal of Service Management.
Dates
Application Deadline: September, 30 – 2018 (5:00 P.M. – CET)
Notice to selected applicants: October, 9 – 2018
Conference Dates: December, 5-7 – 2018
Applications should include
Curriculum Vitae
Brief statement of why attending the workshop would be beneficial for you and your career
One paragraph about your area of expertise: the research topics that you are focusing on and/or interested in
Abstract of a recent research paper or PhD topic (published or work-in-progress) authored or co-authored by the applicant (500-750 words)
Keynote Speakers:  Mike Brady, Melissa De Regge, Jay Kandampully, Chiara Orsingher, Katrien Verleye & Yves Van Vaerenbergh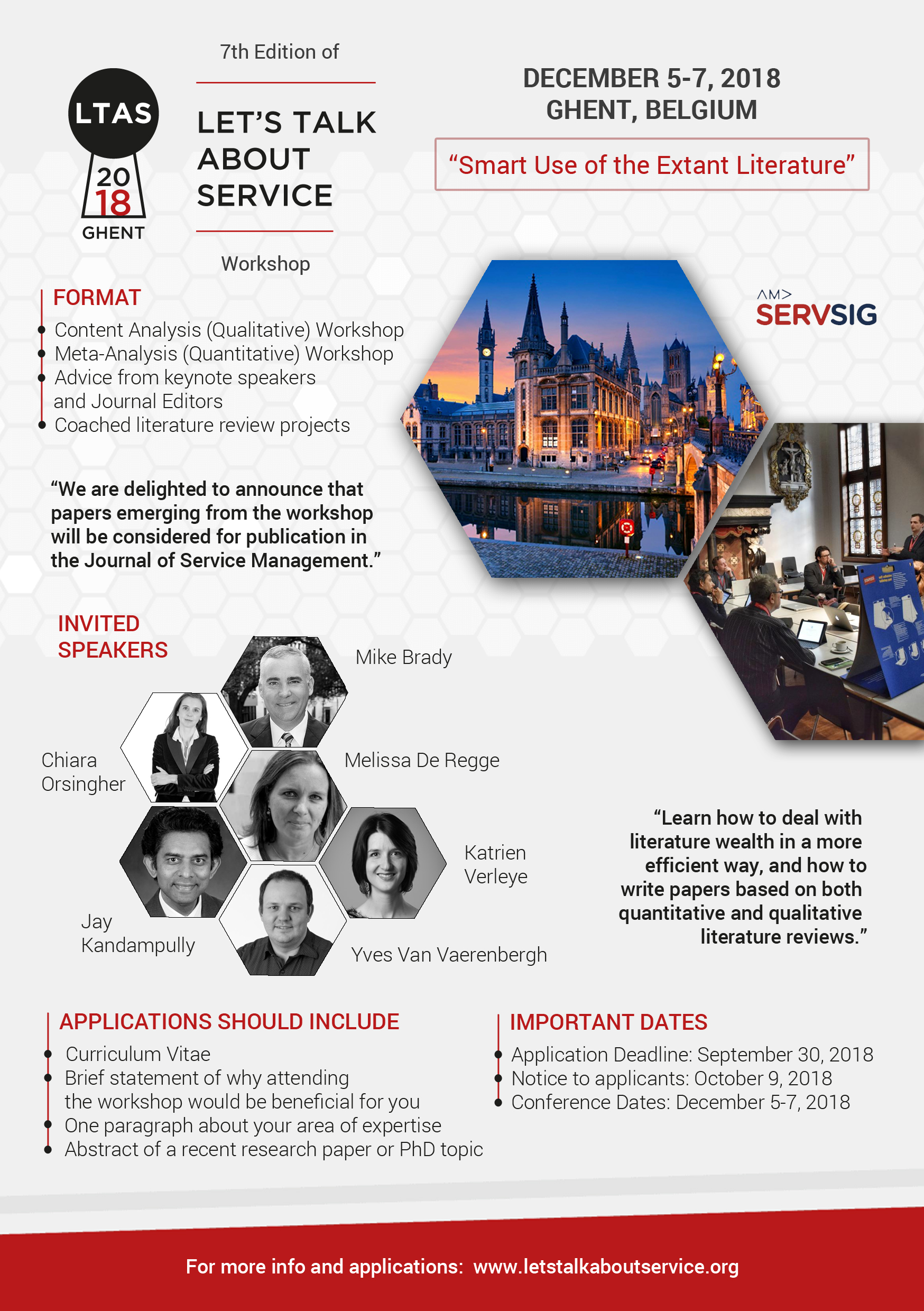 More information:  please visit our conference website: www.LetsTalkAboutService.Org
Looking forward to welcoming you in Ghent!
On behalf of the Organizing Committee,
Bart Larivière, Paul Gemmel, Wafa Hammedi, Sertan Kabadayi & Annouk Lievens